At just $35 a year for registered agent service, we're the cheapest Colorado registered agent around. We think the word "cheap" gets a bad rap. No one wants the cheapest engagement ring, the cheapest Lasik surgery, or the cheapest dentist. But cheap can be good—or in our case, the best. Most Colorado registered agents charge $99 and up, so why don't we? Simply put, we don't need to. We live local, hire local, and know what we have to charge to pay the bills and still offer a superior service.
You may be wondering if our low price is too good to be true. A simple Google search returns a lot of options when it comes to hiring a Colorado registered agent. You'll see prices ranging from our $35 to—holy cow—$299. We're here to tell you that we offer the best service at the best price, which is why we're not afraid to show you a list of our top competitors.
Below you'll find some screenshots (all from February 2021) to show you how our price measures up to the competition.
$35 Colorado Registered Agent, LLC
Yep, we charge just $35 a year for registered agent service—and our price stays the same, year after year.
Even better? Low cost doesn't equal skimpy service. We're the oldest, largest, Colorado registered agent service, and we know how to do it all for less. All our clients receive:
Use of Our Business Address – Keep Your Personal Info Private

Real-Time Report Reminders

Secure Online Business Document Portal

Same-Day Documents

Instant Service from Dedicated Local Professionals
GET COLORADO REGISTERED AGENT SERVICE TODAY!
$49 Colorado Trust & LLC Attorney


$75 Registered Agent LLC


$99 IncCorp
(tied)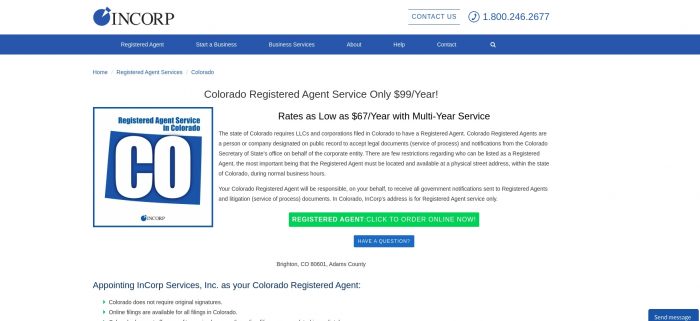 $99 Zen Business
(tied)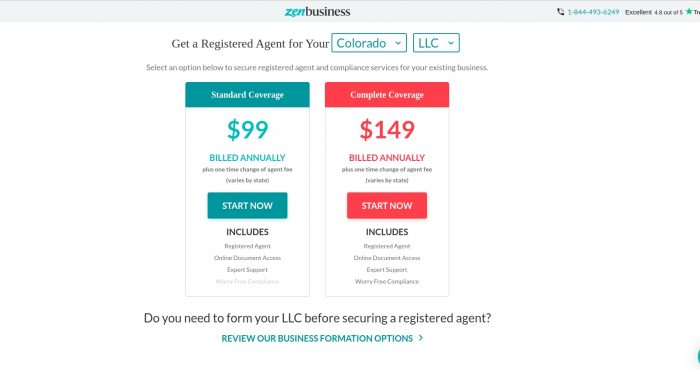 $99 Harbor Compliance
(tied)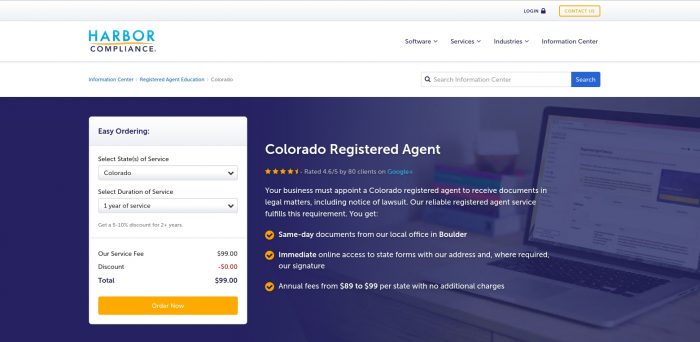 $119 IncFile


$125 Northwest Registered Agent


$200 Registered Agents Inc.


$299 LegalZoom


What Our Colorado Registered Agent Service Can Do For You
Colorado Registered Agent gives you the most bang for your buck. Not only do we have the lowest price, we offer the the most comprehensive registered agent service in the state. You can choose a more expensive option, but why waste money when for just $35 we'll give you the best Colorado registered agent service on the planet.
No other Colorado registered agent service comes close. When you hire us, we promise you:
No Upsells, No Hidden Fees, No "Introductory" Prices
No Data Sales
Privacy Protection – Use Our Address & Keep Your Personal Info Private
$35 All In – Our Price Never Changes
Cancel Anytime With No Cancellation Fees
Call Us & Get Real Customer Service From Local Professionals
Our office is located right here in Boulder. We may not have the big name or the advertising budget of some of our national competitors, but we know the Colorado business environment inside and out. At Colorado Registered Agent, we take pride in providing our customers with quality service at a great price. We're not some fly-by-night operation that takes your money and gives you half-baked service in return. Every one of our customers is important to us. With Colorado Registered Agent, you won't be just another number, we can promise you that.